Post by tommah on Sept 16, 2014 9:35:48 GMT -5
Romero Mod in action
GEORGE ROMERO ZOMBIE MOD v2.1.1
BY
TOMMAH
DOWNLOAD HERE
*CHANGE LOG*
v2.4
-removed Football zombies
-removed King/Bee zombies
*they were stupid and didn't follow Romero rules*
v2.3
-removed all items from lockers... Take THAT!
v2.2
- zombies do more damage: health items are needed again for high levels
- removed Life Regeneration no matter what level you are

v2.1
- fixed prisoner zombies
- fixed football zombies
- fixed King zombies
Now includes two different versions. ONLY PICK ONE!
Only Romero Zombies Version:
If you only plan to use Romero Zombies or Infinite Stamina I recommend this one.
1. Backup your files
2. Download "Romero Mod (DR3)"
3. Place into \data\gameplay\
4. Replace existing files
Mixable Version:
If you have other mods you want to use, Infinite Ammo for example, this replaces completely different files not commonly used with modding the game so it should be easier to implement different mods. I recommend this one if you plan to add any kind of item/behavior/survivor mods.
1. Backup your files
2. Download "Romero Mod (DR3)"
3. Place into \data\gamemodes\
4. Replace existing files
*Issues*
-Using lure-type items will crash your game. Fireworks, Flare gun, etc... Working on fixing this.
Details:
-Zombies are more alert and will not forget you as easily.
-Only way to kill a zombie is to remove head or destroy brain.
-Zombies do more damage and attack more often.
-Cars are more vulnerable to zombie attacks (they aren't tanks anymore).
v.2 (Only Romero Version)
-Altered the probabilities to chop off heads randomly to be more realistic. Headshots from Crossbows now kill.
-Zombies now survive without limbs completely, only way to kill are head shots.
-No lockers to save you from the dead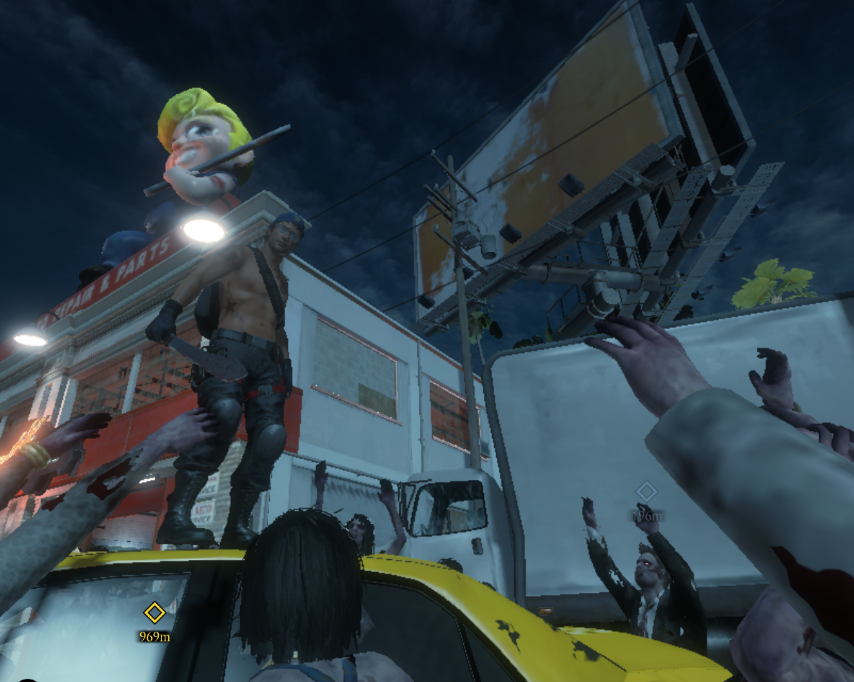 I recommend restarting game or reloading nearest chapter to get full effect. Some features will not take effect until a reload.
GOOD LUCK!