Post by reese on Sept 18, 2016 21:05:51 GMT -5
Mods I make will be put here. Most of em are texture edits and a few are game changing mods.
Re-spawning Coffee Creamer in Infinity Mode and Stip0's Infinity Mode Saving Mod All in One Package!
www.dropbox.com/s/o4x0wu8trdyvobf/arcromarea136.arc?dl=0
BUGS: There seems to be problems with achievements not unlocking even after hitting the 5 or 7 day mark. I've heard 3 cases of this happening, one of which was posted in the thread and was adressed, and others which were reported in the chat. All the issues seemed to be resolved after waiting an additional
12
hours. For example, to unlock the 5 day survivor achievement, you would need 5 days and 12 hours survived to unlock and the same goes for 7 day survivor. Good luck!
As the title says, it adds a re-spawning jug of coffee creamer into the security room, and allows you to save in ifinity (Stip0's work, gave me permission,).
CREDITS: Stip0, Ellie for loads of help and testing, and others for test work as well.
Old Raccoon City Police Department Uniform (WIP?

)
www.dropbox.com/s/2erz4tsz7tt0egu/Racoon%20City%20Police%20Department%20Uniform.zip?dl=0
A gift from a fellow zombie outbreak survivor. Its paint is worn out, it smells like sewage and it looks like the original wearer took a couple of shots to the chest.
Reskins the special forces uniform, unlocked by getting the "Hella Copter" achievement.
Screenshots:
imgur.com/a/RCoYM
and
imgur.com/a/WyYx3
Pre-E3 Hair Improved
www.dropbox.com/s/ngngvaoyihfv83g/Pre-E3%20Hair%20Improved.zip?dl=0
Taking the original cos206 file, getting rid of franks weird tan lines below his hair, so it now matches his skin and also supports dye (light brown not supported)! Check it out!
Some screenies:
imgur.com/a/TCdp4
imgur.com/a/QjjCx
CREDITS: Stip0, of course. He found the files, dug them up, put them in the game and made em look nice in the first place, I merely tweaked them.
Toy Mega Buster Textures Replace the Real Mega Buster Textures
www.dropbox.com/s/ofwcw3p4t5y126t/Real%20Mega%20Buster%20Reskin.zip?dl=0
Pretty self explanatory. Replaces the gritty and realistic real mega buster textures with the cartoony and bright toy mega buster textures.
CREDITS: solidcal and stip0 for pretty much everything!
Real Megaman X Helmet
www.dropbox.com/s/3lk3mvpbwzw4izt/The%20Real%20Megaman%20Helmet.zip?dl=0
The
real
megaman x helmet, not some phony piece of plastic. Forget the visor, eye protection can piss off. That obnoxious MEGAMAN tag is not
entirely gone,
the sticker/shiny looking material is gone, but megaman is still imprinted onto the helmet, just a lot less visible then before. Now, equip your armor and go kick maverick ass! Goes great with my mega buster mod!
CREDITS: PockyWitch and stip0 for making texture editing even remotely possible. Ellie for some extra help as well.
Frank Myers (WIP)
www.dropbox.com/s/pdlcdbx7690txye/Frank%20Myers%20%28WIP%29.zip?dl=0
I have no idea why I made this, but uh, here. Replaces franks head with michael myers mask.
Credits: Solidcal for helping me find those pesky frank face textures.
The Crystal Lake Slasher's Very Own Mask!
www.dropbox.com/s/n1zh15yi5cqukf9/The%20Crystal%20Lake%20Slasher%27s%20Mask.zip?dl=0
An ancient looking mask found in a body of water at camp crystal lake, just after a massacre had took place. According to locals, it belonged to an mysterious and enigmatic killer. Do you think he'll mind if you wear it?
Replaces the hockey mask, granted by completing the "PP Collector" achievement. It is based off of Jason Vorhees from friday the 13th part 7...if you somehow didn't notice. Enjoy!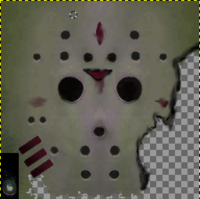 Coming Soon: Super Weapons B-Gone!
A work in progress mod that removes the small chainsaw, the mega buster and the laser sword from the game, stopping the game from being too easy.
I Want it All!
www.dropbox.com/s/ub8q1180g8y7xnp/Reese%27s%20Rising.zip?dl=0
All currently released items(besides the Michael Myers reskin, cause thats more of a joke mod) in one easy to install package. Will be updated consistently. Also includes access to all achievement clothing in the security room and the laser sword. They are invisible, but prompts to equip them are still there. Mega buster not included.