Post by solidcal on Sept 18, 2016 6:59:22 GMT -5
So thanks to Stipo for sharing his DR1 knowledge on things such as simple weapon spawning. I can now finally mod DR1 on PC a bit more. So this topic is where I will release any mods I have done. Most of them will be item/weapon placements though for now.
Brainwashing Tips spawning from the start of the game
So ever thought that the Brainwashing Tips book spawned far too late in the game for it to be of use to you? Well now you can get it from the very start of the game.
*Chanting cult sounds* (Download here)
Known Issues: Not really big, but the spawn acts like a dispencer, so you can leave and come back to grab a book again and end up have two of the same book in your inventory. This is just a bit of code that makes it act like a desipencer. Just need to figure out which one it is, so it only spawns once to be take and won't respawn unless you go back to it after dropping the book and leaving the area it is dropped in. For now, only take one and that's it really.

Al not really an issue. But this item spawn will replace the data that would normally spawn in a snack in the cinema. Not a huge loss as it was a "Japan" snack. All other snacks and such are untouched though.
Next I am planning to make the other books that seem to appear when a boss is defeated. I think Kent is the only other one to have a book appear after we kill him. After that I'll move on to making the boss related weapons spawn from the start too.

Survival book location change
This mod simply changes the position of the Survival book from Cliff's empty room to be in the same place as this paintcan which is not too far away from the entrance to North Plaza via the doors. Also this will not respawn like the brainwashing book does at I figured out the reason why it acted as an area constant respawning item.
Download here
Orange dispencer in Infinty Mode in Paradise Plaza
This mode is simple, it replaces a bench so it can re-enable the OJ dispencer in Paradise Plaza's Columbian Roastmasters.
OJ infinity Mode sipencer! (Download here)
Brad's outfit for Frank
Ever wanted to dress up like everyone favourite DHS agent? Well now with the release of the tex tool, you can!
This is a reskin of the cos030 outfit aka the blue shirt, beige tie from the blue lockers.
You're with homeland security? (Download here!)
Jessie's outfit for Frank
Wanna dress like Jessie, but not have her big bust? I got you covered. Took Jessie's textures and used them to replace the White Skirt dress you can grab from Gromin's in Entrance Plaza. Now you can dress to impress and look like both of your favourite DHS agents.
*Wiggle. Wiggle!* (Download here!)
Play as Brad (slight WIP)
So gonna rlease this as a WIP. Play as Brad Garrison over Frank in DR1! Only issue with this is the in game model's eyes oare closed. This is something I need to fix in hex once I know how to do so. But I hope you enjoy this anyway. Also camera model on his outfits and model he holds in his left hand are made invisible. Also another issue is the lesiure park has it's own copy of the hair model. I will think that as well at a later time. So yeah. ENJOY!

Brad! (Download here!)
Wonderland Plaza Girl's bathroom Security Room jump
So this mod is simple. It adds a trigger to allow you to go directly to the Security Room from the Wonderland Plaza girl's bathroom now. It is moved slightly away from where Greg's shortcut will spawn, so it shouldn't interfere with anything.

Download here!
Agent 47's suit for Frank Reskin
So did you ever wish DR1 had a suit similar to Agent 47's from the Hitman series? If you answered yes, I can make you happy by saying I have done that reskin. Works well with a bald Frank too. This outfit replaces the Grandpa Suit outfit from the blue safehouse lockers. AKA this: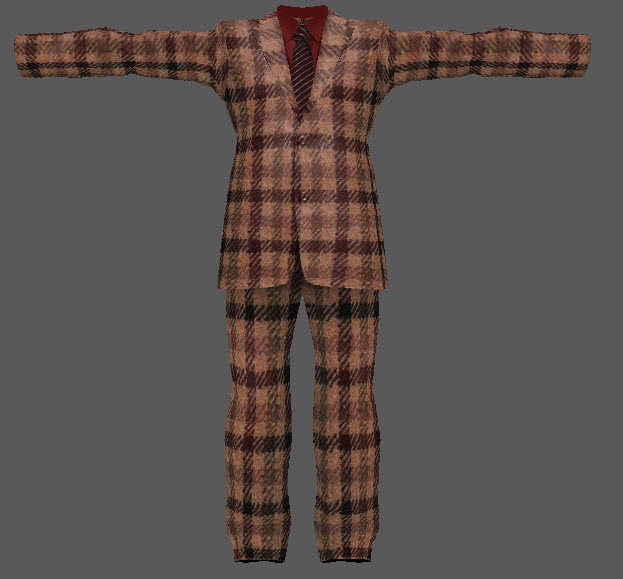 Download and enjoy!
"The way the target is up to you 47" (Download!)